What's A Pre Owned Diamond?
Have you ever heard the phrase 'diamonds are forever?' Of course, you have. Only, as far as you are concerned, it is after all just a marketing slogan. The thing is, the reason Mary Frances Gerety, the copywriter responsible for its creation, thought of it was because diamonds don't ever 'get old.'
A diamond is never worn out and can't really be considered 'second hand.' The truth is, there really is no such a thing as a pre-owned diamond. A ring or any piece of jewelry can be restored like new, even better than a vintage car or a historic watch because, once cleaned, the diamond itself is just as it was before.
We have bought back diamonds from our clients many times in the past when they wanted to upgrade to something a little bigger or with a stronger color. Some have passed through the hands of many important brands, like Cartier, Graff, Chopard, and even Tiffany. Many of the important stones we have had before tend to resurface in the market again and are offered to us. A fine stone will remain completely new, forever. It may require a good cleaning from time to time, but it'll sparkle after 50 years just as it did the first time it was polished.
It's actually quite a common practice that a Leibish client will ask to receive a credit for the stone they purchased from us when upgrading to a newer one. And when that happens, just to be certain we are still offering only the very best, we will always resubmit the diamond to GIA for an updated certificate.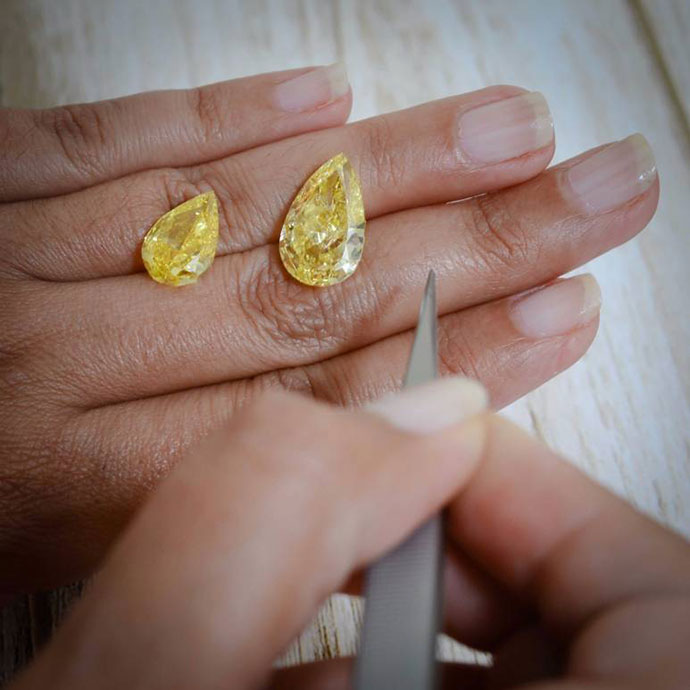 We sold a 6-carat to a woman who came to our New York office. Now, her husband came back to us as they decided to get a bigger stone, which appears longer on the finger. We immediately sold her diamond and succeeded to locate a gorgeous 11-carat fancy intense yellow with a nearly vivid color face for the lady.
Some Argyle stones we sold and bought back for our stock, making everyone happy.